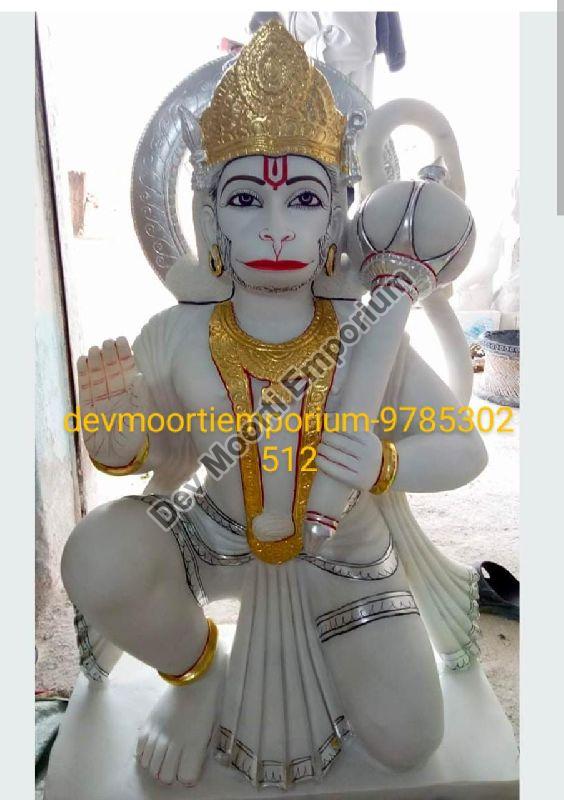 Hanumanji (Lord Hanuman) is well-known for his secret abilities and Ram Bhakti: devotion to Rama. Lord Hanuman is Hinduism's most prominent deity, revered by Hindus all around the world. He is the God of valour, strength, might, and loyalty to the Lord. People travel from all across India to view Hanumanji's famed temples and seek his blessings.
Why is Lord Hanuman Worshipped?
Lord Hanuman devotees are always joyful and content. Worshipping Marble Hanuman Statue is a requirement for a speedy recovery from challenges and obstacles in one's work or family life.
Devotees reap numerous blessings from worshipping the Marble Lord Hanuman Statue purchased from renowned marble Hanuman Statue supplier. Marble moorti puja, reading the Hanuman Chalisa diligently, and doing a few crucial rituals like applying Sindoor (Vermillion) to achieve one's heart's desire are all part of worshipping marble Hanumanji statue.
Different Marble Statues of Lord Hanuman
Hanuman Panchmukhi (five-faced)
It is said that maintaining a marble statue of Panchmukhi Hanuman in the homewards off evil energy and ensures that the household is free of problems. It also brings the blessings of Goddess Lakshmi into your home. A marble statue of Panchmukhi Hanuman should be placed at the front of your home.
It is thought to be good to place a marble moorti of Lord Hanuman in the house's south direction. Lord Hanuman's impact is strongest in the south, according to Hindu mythology, and Vastu Shastra believes that displaying the deity's portrait in this direction will erase all negative energy from the house.
Lord Hanuman is seated at the feet of Lord Ram.
Lord Hanuman's idol was Lord Ram. It is said that if this statue is displayed in the family's living room, it will maintain the love flowing amongst all members of the family.
Sanjeevani Mountain is carried by Lord Hanuman on his back.
To save Lord Lakshman's life, Lord Hanuman had flown an entire mountain with him. It is recommended that Lord Hanuman's marble statue of him flying with the mountain be displayed in families whose members lack confidence and courage.
Benefits of Marble Hanuman Statue Pooja at Home
Enhances your physical and emotional well-being.

It will assist you in achieving your life's objectives.

Aids in the fulfilment of material desires and improves family harmony.

The worship of Marble Hanuman Ji expunges all prior sins from the worshipper's life.

Provide significant relief from a long-standing health issue.

Saturn-related issues must be resolved (Shani Dasa).
Worshiping the Marble Hanuman Statue can help one overcome difficulties in their marriage. Some argue that praying to him is bad because he is a bachelor, however, he is the one who assisted Lord Ram in reuniting with Mata Sita (when they were being separated by Ravana).
Lord Hanuman is regarded as a sign of strength, valour, and loyalty. Worshiping Lord Hanuman can enthral and reassure a person. Tuesday is dedicated to the Hindu deity Lord Hanuman, and devotees pray at temples dedicated to him. Prayers offered on this day, according to Hindu legend, satisfy Lord Hanuman, who then grants the wishes of his devotees. Lord Hanuman comes in many distinct forms, which can eliminate Vaastu Dosh by placing separate portraits in different parts of the house.