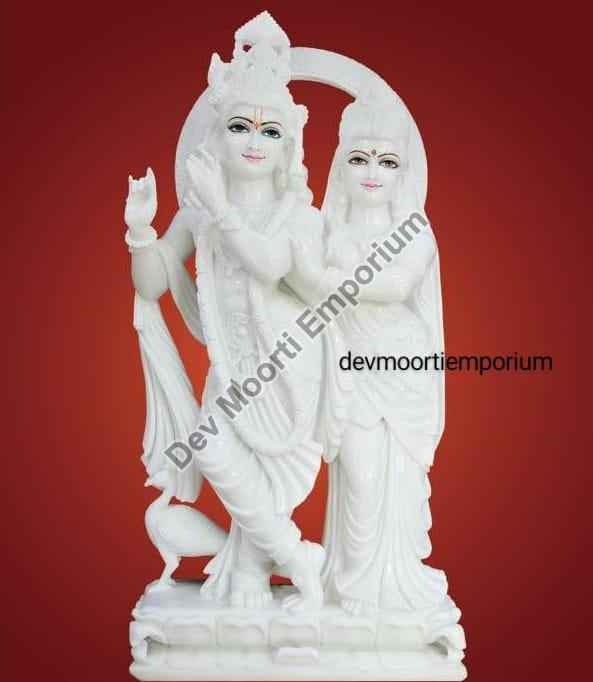 Marble was regarded as a stone for gods and rulers in ancient times. A thorough analysis of historical buildings and structures indicates that they were constructed of marble. The Taj Mahal is one of the most renowned structures built of this stone.
This rock is still utilised in decorative building materials nowadays. Marble has a wide range of applications, both inside and outside, like Lord Krishna idols from a Marble Radha Krishna Statue Supplier.
Marbles comprise calcareous metamorphic rocks created from limestone as a result of pressure plus geological phenomena. Marble, like granite, has a rigid crystallinity and a small porosity.
Marbles include a variety of minerals, including sand, silt, and clay, which result in a variety of hues. Irrespective of the contaminants in limestone, the major ingredient is calcium carbonate, a mineral created by calcite.
Since antiquity, marble has been widely used in the construction of numerous goods such as buildings, forts, cathedrals, statues/murtis, pillars, and ornamentation.
Additionally, marble has some unique features that will be described that provide a competitive advantage. It is for this purpose that marble is used to create God's statues or murtis.
Why Should You Use It?
Marble has traditionally been utilised for building God sculptures or murtis due to its distinctiveness and particular features, which are stated below:
Marble's transparency nature allows light to penetrate and emit a lovely glow when illuminated.
The marble's surface may also be polished to a high shine.
Several millimetres of light are captured before being dispersed, giving the display a beautiful surface texture.
Marble, for example, is porous and consequently softer than other stones.
Because of its granular makeup, marble is easier to carve and produces smoother shapes than granite or even other stones.
Marble, having porosity and delicate, is ideal for manufacturing marble murtis due to its strength and stability.
Things To Remember Before Buying:
The difficulty is, nevertheless, how to choose the ideal marble and what type of marble should be utilised for a marble murti.
Ascertain that all components are the same colour, size, and quality as stated.
Apart from one polished face, all four quadrants of the marble must be machine-cut.
Thickness and alignment must be consistent. Unevenness induced by non-uniform thickness might result in house cracking incidents.
Make sure the marble chucks are of the same size, since irregular sizes can make cutting, installing, and grouting difficult.
In addition, study the marble's front and rear surfaces. These slabs should indeed be avoided if they have welded wire affixed to the rear side since producers would utilise wire mesh on delicate or brittle marble.
Marble is an excellent stone for carving and statue creation for a variety of reasons. As a result, it is comparatively soft, making carving and producing smooth curves and forms simpler than with harder stones such as granite. Statues of gods can be sculpted with ornamental carvings that would be challenging or even impossible to add to certain other stones using this granite.
Waxing and repacking them twice a year will help keep their lustre. If the recommendations are followed, marble structures can seem new even decades after they were installed. Nonetheless, marble murtis and sculptures bring calm and prosperity into your life and increase your optimism.